Carefully guarded secret of making and decorating Licitar heart has been passed from knee to knee for generations. The history of this gingerbread cookie dates back to 16th century. While the golden age of Licitar heart was 18th and 19th century, today this recognizable souvenir is getting a new note.
Based on that Croatian fashion brand Hippy Garden directed its forces in promotion souvenirs inspired by Licitar heart, that is part of the Intangible Cultural Heritage list of UNESCO.
.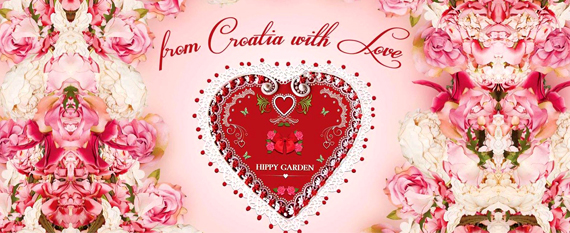 LOVE
CREATIVITY
WORK
POSITIVITY
"Everything I do – I do with my heart. I am experiencing creation through love because another way of working, creating and living I do not know …"
Hippy Garden, led by designer and innovator Đurđica Vorkapić, has been making outstanding results for over 15 years with continuous quality and carefully designed creations. It has become a highly recognizable and competitive designer brand, a fashion leader in Croatia, as well as the region.
In every new project, Hippy Garden gives a new dimension to fashion creativity and over and over again surprises by its ideas and visual solutions. Hippy Garden collections are inspired by the creativity, warmth and energy that one can find in the world. Collections are made of high-quality materials and technical perfectionism.